Rhianna's Modern Pregnancy Photos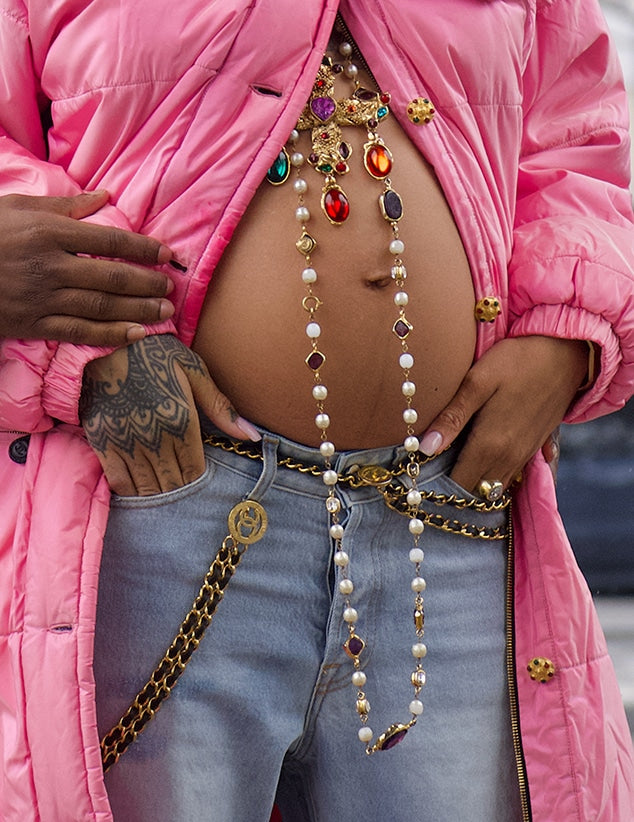 Has the pregnancy photo been modernised?
Rhianna and ASAP Rocky have taken Modern approach to pregnancy photography
In the name of creativity and innovation.
Rihanna and ASAP Rocky have announced their first child. Miles Diggs, a.k.a., Diggzy, was named by Vogue as "fashion's favorite paparazzi". The couple released a photoshoot shot by the young inspiring photographer.
Rihanna is wearing a puffer coat with jeweled gold buttons over extra-long ripped jeans, held up by a gold and leather Chanel belt. British Vogue identified the coat as vintage Chanel, though Chanel declined to comment.
In one photo they are strolling along a Harlem street, seemingly under elevated subway tracks; in another he is creating a loving circle around her.
The pictures appear to have been taken before the weekend's snowstorm and freezing temperatures, and show them looking very much like they are enjoying themselves.
Rihanna's Vanity Fair cover is the latest stage in a photographic tradition that can be traced back to the Demi Moore pregnancy cover in 1991. The framing is carefully calculated in its pretend intimacy, both off-duty and on message. "Caught" so that you get a sense you are getting a peek into a private moment, though in a way that has been entirely choreographed.
That snap set a new standard for managing the public pregnancy reveal. It was the first of an entire series of high-concept maternity photoshoots released by the singer. Beyoncé, Cindy Crawford, Britney Spears, and Gigi Hadid all had similar shots.
The artist's use of social media as an exercise in image-building is part of a larger trend that sees stars using the medium to communicate with their fans and build brand awareness.
As for Mr. Diggs, he says part of his success lies in the fact that he doesn't shy away from showing his subjects in their natural light.
Rihanna seems to have opted for an image that seems like a sly nod to fashion itself.
Search for "pink padded coats" increased over 100 percent in the hours after the photos were posted. Rocky also caused a spike for men's sweater vests, leather trousers, and Carhartt jackets.
On enetrends.com searches for "ripped blue jeans", "pearl necklaces" increased to over 75 percent too.
Is this the beginning of a new trend? Only your timelines on social media will tell.
We would love to hear from you.
---